Rabbi Rebecca Gutterman

We are very excited to introduce you to Rabbi Rebecca Gutterman, our new rabbi!
Rabbi Gutterman came to us from Congregation B'nai Tikvah in Walnut Creek, California, where she served as senior rabbi for the past five years. Ordained from Hebrew Union College in New York City in 2004, she also served as associate rabbi at Temple B'rith Kodesh in Rochester, NY for ten years.
She has been involved in every aspect of congregational life – worship and life cycle, pastoral care, the Religious School and youth activities, adult education, life long Jewish learning, communal and interfaith programs and more. She developed innovative Shabbat programming including a speaker's series and different sermon formats, many of which include storytelling and congregant participation. She loves working with youth, writing with Bar and Bat Mitzvah students and singing "The Chicken Soup Song" at Tot Shabbat! She has also taught adult education classes on topics ranging from Religious & Spiritual Poetry to Jewish views of moral issues in complicated times. Her writing has appeared in reformjudaism.org, ravblog (CCAR Reform Rabbis Speak), The Sacred Calling: Four Decades of Women in the Rabbinate, and the Jewish News of Northern California. In Rabbi Gutterman's own words:
In every moment, with every act, the stage really is set for building a synagogue community that is lively, engaging and warm. One that offers meaningful paths into Jewish learning, social justice, community and prayer. Temple Emanu-El is that synagogue, and I can't wait to write our next chapters together.
Rabbi Gutterman, her husband Michael Simons - a longtime theatre professional specializing in set design and construction - and their 3-year old son Jonah happily reside in Metuchen. When not at Temple, you can find her at the pool, talking with congregants at Brewed Awakening or Cai's and attempting to catch up on the Sunday New York Times.
CONTACT INFORMATION
Phone: (732) 549-4442 Ext. 101
Email: rabbigutterman@edisontemple.org
---
Cantor Sharon Kohn


Cantor Kohn strives to share her joy in being Jewish through music, prayer, learning, and listening. She is excited to welcome Rabbi Rebecca Gutterman as her clergy partner and looks forward to creating sacred space for Emanu-El's settled cantor, whomever that might be.
Sharon Kohn spent her childhood in central Illinois, dividing her time between Moses Montefiore Temple and any theatre or music production that she could find. She studied Music Theatre at Illinois Wesleyan University and received a Bachelors of Music from Illinois State University while also tutoring B'nei Mitzvah students and singing in, and ultimately leading, High Holiday choirs.
Cantor Kohn earned her ordination and Master's degree from Hebrew Union College-Jewish Institute of Religion, Debbie Friedman School of Sacred Music. She is an active member of the American Conference of Cantors [ACC]. She has served full-time in congregations in Texas, Ohio, and Kansas. She has served as an Interim Cantor in Louisiana, Texas, Maryland, and New Jersey.
Cantor Kohn has training with the Interim Ministry Network [IMN] and is a member. She has studied at the Institute for Jewish Spirituality, and is a certified leader for Wise Aging. She has finished 4 units of C.P.E. and Level 1 of Kodaly training. Continued voice training is part of her weekly routine. Kohn enjoys the fiber arts and is rarely without a knitting or crocheting project. Weeding someone else's garden is a source of joy and comfort, as is baking, preferably something chocolate.
Kohn is married to Rick Simon and calls Kansas City her permanent home.
CONTACT INFORMATION
Phone: (732) 549-4442 Ext. 102
Email: cantorkohn@edisontemple.org
---
---
Rabbi Alfred B. Landsberg - Rabbi Emeritus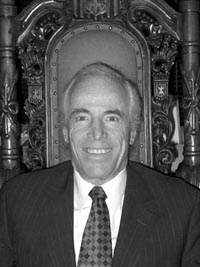 Rabbi Alfred B. Landsberg served as Rabbi at Temple Emanu-El, Edison, N.J. for thirty eight years. In June 2006 Rabbi Landsberg became Rabbi Emeritus of Temple Emanu-El and we thank him for his many wonderful years of commitment and leadership.
Rabbi Alfred B. Landsberg holds several academic and religious degrees (Artium Baccalaureus, Artium Magister, Bachelor of Hebrew Letters, Master of Hebrew Letters, Doctor of Divinity (honoris causa) -- but truly derives a sense of fulfullment from being married for over fifty years to his beloved wife, Ruth -- and from his wonderful children -- Lori, Adam Debra, and Michael, -- and from his eight grandchildren.
Rabbi Landsberg was ordained in 1962, -- served in the United States Army Chaplaincy, -- was Spiritual Leader in Plattsburgh, N.Y.
He has served as President of many organizations, -- and as a Member of the Board of numerous others, --- these Organizations dealing with racism, homosexuality, mental retardation, alcoholism, family life curricula, affimative action, adoption of "hard to place" children, planned parenthood, drug abuse, community relations, abortion counseling, homelessness, hospital institutional review board and ethics committees, pastoral education, ecumenical concerns, and HIV-AIDS ministry.
Rabbi Landsberg has been quoted as saying: "The many affiliations in which I have served may "look good on paper', but are merely tools to attempt, -- in whatever small fashion I can, -- to leave the world a somewhat better place for my having been there.
TIKKUN OLAM, --partnering with whatever God we may worship in order to enhance the world and the lives of those who dwell within it, -- is not simply a slogan to be shouted but, rather, an action to be implemented."
CONTACT INFORMATION
Phone: (732) 549-4442 Ext. 103
Mon, May 25 2020 2 Sivan 5780